These photos illustrate my postpartum fitness journey. In the photo on the left, I was 9 months pregnant and 182 pounds. In the photo in the middle, I was 2 months postpartum and 155 pounds. The lines on my stomach are claw marks from one of my great danes jumping on me. Finally, in the photo on the right, I was 7 months postpartum and 150 pounds.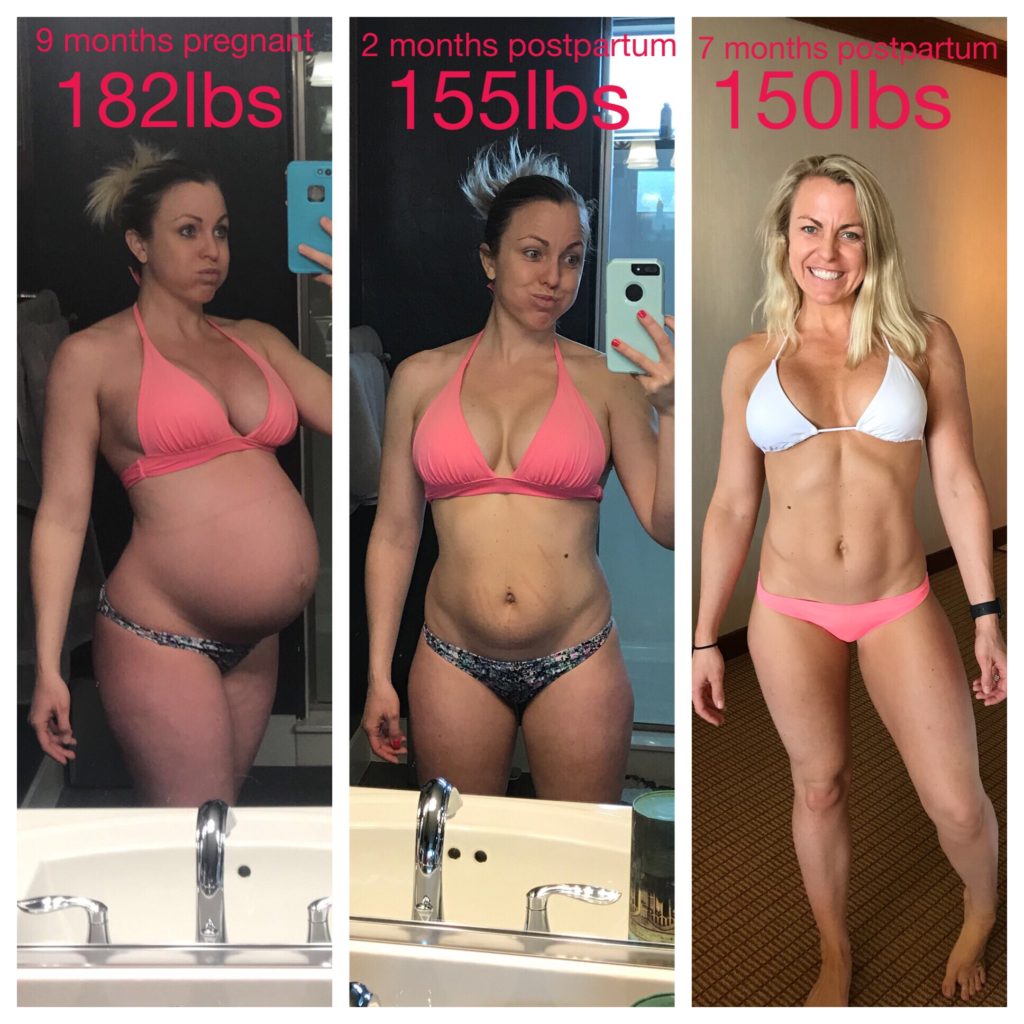 I started walking around the neighborhood with London and our dogs 2 weeks postpartum. This photo was from our very first neighborhood walk. I had to leave our older great dane at home because she was recovering from an ACL surgery.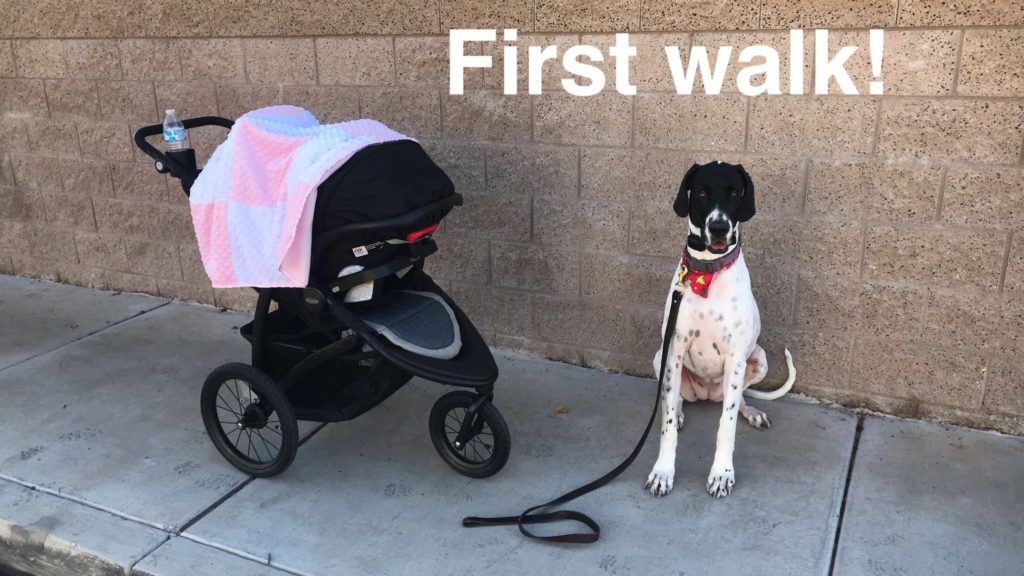 When I initially started walking, my pace was fairly slow and I definitely didn't push myself much. It was mainly to just get some fresh air and blood flow to my lower body. I had really bad edema after delivery so I wanted to get rid of the excess water. I checked into the hospital at 183 pounds, and I expected to lose 10 pounds during delivery. Needless to say, I was shocked when I got home from the hospital the day after I gave birth and weighed 185 pounds! How did I deliver a baby and gain 2 pounds? My lower body was so swollen I thought I was going to need to cut my toe rings off. Here is a picture of my feet 5 days after I delivered our baby: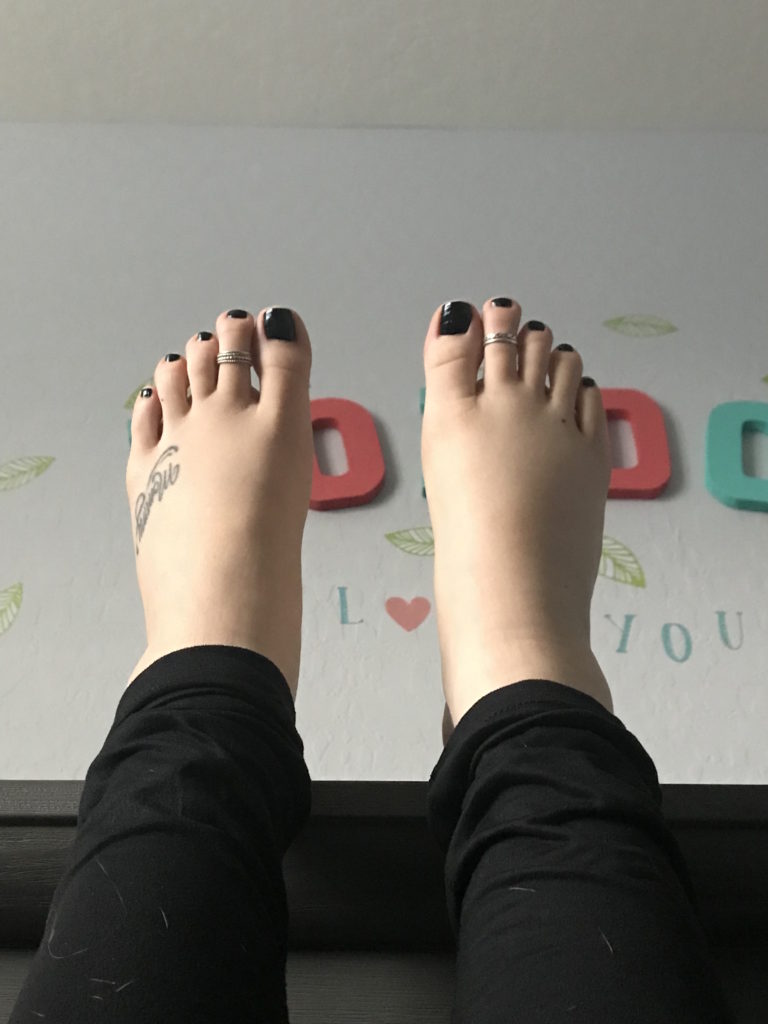 This is not how they normally look! Usually my feet are fairly vascular (thanks, mom!). The water weight took a few weeks to come completely off. By 2 weeks postpartum, I was down to 155 pounds. The skin on my stomach was still very loose but fortunately, I didn't get any stretch marks during my pregnancy so it pretty much just looked like a big beer belly. I know genetics play a huge role in the development of stretch marks, but I also credit my controlled weight gain and my dedication to applying coco butter and coconut lotion. These are the products I used:
I used this on my stomach, hips, and boobs –

And I used this lotion on my legs and arms –
I applied both of these morning and night, every single day. I also drank 120oz of water every day. I filled up my Hydroflask in the morning, at lunch, and before I went to the gym in the afternoon.
This is the one I use –
Obviously you don't have to use a Hydroflask, but I absolutely love mine. No matter what, it is important for a pregnant woman to drink plenty of water throughout her entire pregnancy so she doesn't become dehydrated. Dehydration can cause many different pregnancy complications that are otherwise easily avoidable.
To sum all of this up, I credit my moderate weight gain, ability to rebound well, and development of zero stretch marks to the following:
A healthy lifestyle prior to pregnancy;
A healthy diet and exercise routine throughout pregnancy (see http://thelawyermom.com/pregnancy-workout/ and http://thelawyermom.com/pregnancyeating/ for more info on my diet and exercise); and
Healthy self-care habits everyday, which included applying coconut lotion and coco butter twice a day and drinking 120oz of water.